You've lived in one your whole life, but are the parts of the house you live in still somewhat of a mystery to you? We've put together this 3 part series, released weekly, as a simple guide for a crash course in what makes up a house. We'll stay out of the weeds with details, but rather we'll focus on a description of the 11 main systems of a single family residence and some key things to know about each. Houses are built mostly in the order below, though some components are built in multiple steps due to waiting for other parts of the house to be completed first. This guide is designed for the average homeowner who seeks a base knowledge of what goes on behind those walls in order to empower them to maximize the asset they own.
The systems that make up a house are:
The Structure:
1. Foundation
2. Frame
3. Roof
The Functional
4. Windows/Doors
5. Plumbing
6. Electrical
7. Heating & Cooling (HVAC)
The Finishes
8. Siding / Gutter / Soffit / Fascia
9. Drywall & Paint
10. Interior Finish Carpentry
11. Finished Flooring
Today we'll move through the Finish components: Siding / Gutter/ Soffit / Fascia, Drywall & Paint, Finish Carpentry, Flooring.
8. Siding / Gutters / Soffit / Fascia
Here are the remaining parts of the house that are on the exterior:
Siding
Siding covers the exterior wall of your house. It sheds water rainwater off lately is most often constructed of vinyl or hardie board.  Early versions of siding were made with asbestos which was later discovered to be toxic, with the primary risk given to human lungs.  We've included a picture here of what a common appearance if this siding looks like. Manufacturing of asbestos siding tapered off in the early 1970's. In our experience, houses built before 1955 or so are the vast majority of houses with this harmful siding.
If you buy a house or currently own a house with asbestos siding, no need to worry. It is generally accepted that the health risk is when the pieces break apart and release tiny particles into the air. There are professional removal services, but they are expensive. In reality, exposure to asbestos for a few hours in a couple days is highly unlikely to have long term effect on your health if you should decide to remove it your self.
Gutters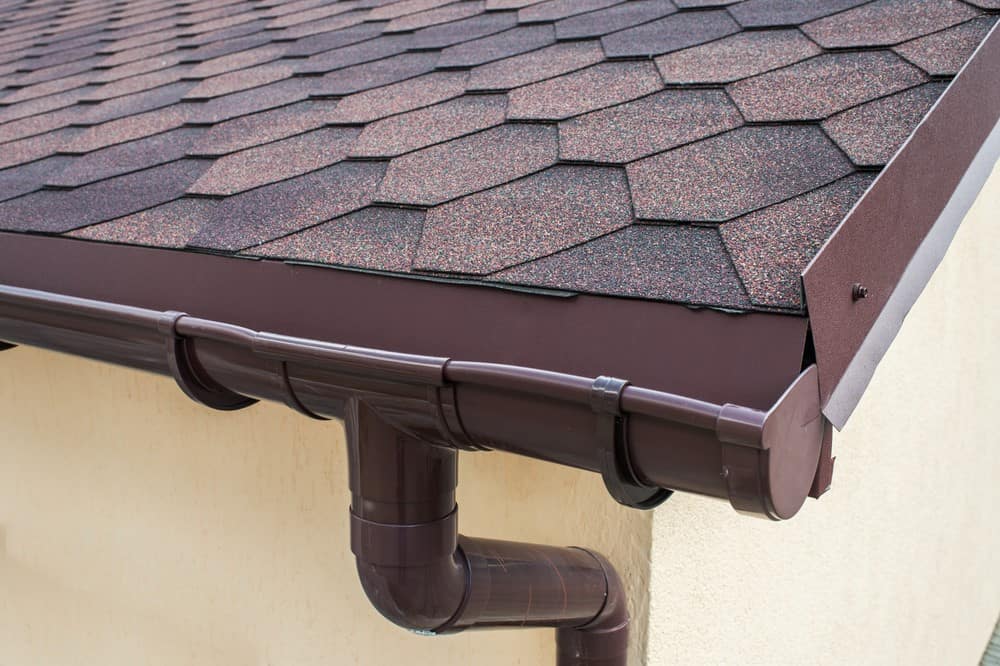 Gutters are a commonly understood function of a house. These are the metal tray- or trough-looking fixtures running the length of your roof eves. They catch water coming down the roof, and transport it down and away from your house and foundation.
Don't underestimate the power of gutters! Many houses we have purchased have foundation issues near a gutter leak or have extreme moisture problems in the crawl space or basement due to gutters not properly shedding water away from the house. Most foundation companies today will recommend you have gutter downspout extensions that run 6 – 10 feet away from your foundation of the natural grading of the soil does not have a good slope away from the house.
Soffit / Fascia
Soffit is the underside of the eves of your house. Fascia is the vertical board right behind your gutters. Here's an image to help with the differentiation: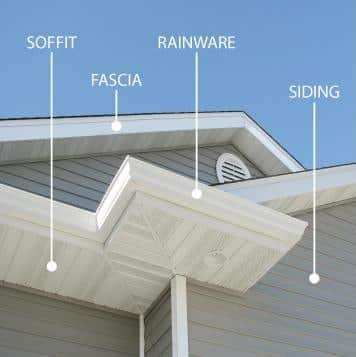 These two exterior features mostly go unnoticed. Soffit often has vents to allow some airflow from the attic. If the gutters leak and you are lucky enough to have roof eves, the soffit and fascia will be the first to get damaged and rot. They are accessible and easy to fix then paint. Today, more and more houses will have metal/aluminum Soffit and Fascia for a smooth, clean look.
9. Drywall & Paint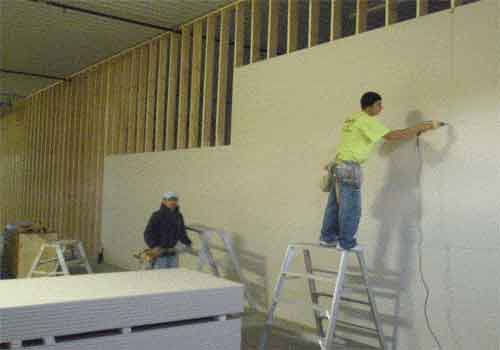 Perhaps the most important aesthetic for how the interior of the house looks is the interior paint on smooth walls typically made of drywall. Houses built around the late 90's and later almost always use sheet rock (drywall) to close in the walls. Remember the frame of your house, with all the vertical 2×4's making the walls? Drywall is tacked straight to those studs as well as the ceiling joists. Installers use a few other tricks to make sure the final appearance is perfectly smooth, ready to be painted. It is behind the drywall that all the secrets of your house are kept!
The main thing to know about paint is the type (or finish) of paint that's best for your particular application. The most commonly used finishes range from flat/matte to eggshell, semi-gloss, then gloss. Matte has a dull finish with no shine, and gloss of course has a high shine. The higher the gloss of paint, the more expensive and easier to clean. Matte paint can be easily re-painted without drawing attention to the area with new paint.
If you wanted to sell your house and could could only spend money on one thing, a fresh coat of paint on the walls would probably have the greatest effect on value and speed of sale. You can paint pretty much anything imaginable in or around your house if something needs a refreshed appearance. Discoveries away the DIY homeowner with Google in hand!
10. Interior Finish Carpentry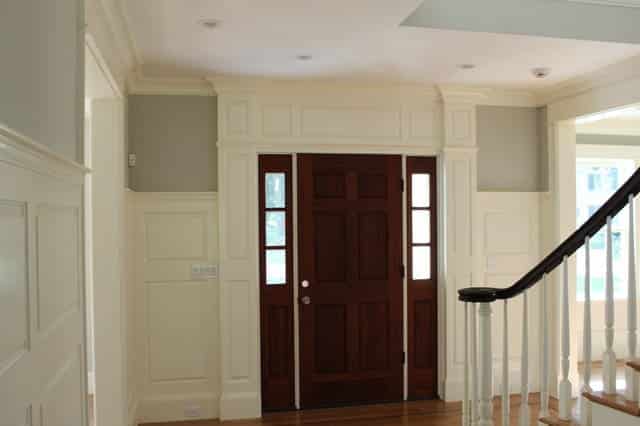 Interior Finish Carpentry is a general term relating to most finishes inside the house made of wood. The parts of the house in this category are the doors, cabinets, trim, baseboards, crown moulding and the like. Trim is used around doors and windows to smooth out the appearance of the drywall butting up to the frame of the door or window. Trim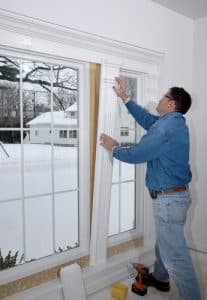 covers the gap, and is usually painted a different color than the wall for an accent. Baseboards are a similar aesthetic for the dressing up where finished flooring meets the wall.
Cabinets are typically only found in the kitchen and bathroom. They can be built custom, but this is more of a luxury for high end homes as the cost can be over $5,000 even for a small kitchen. Bathrooms usually have stock cabinet vanities from a retail or wholesale supplier.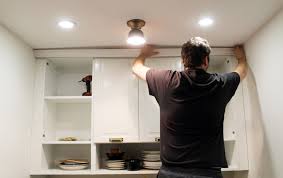 All finished carpentry varies mostly by style and quality. The style is going to be the design of how the piece looks, and the quality is simply what the piece is made of. Some trimwork can be made of a composite wood that isn't particularly noticeable, but isn't as hardy when it comes to weather wear and tear or even acute damage. Doors can be hollow-core to save money, but of course will also not last as long as a solid wood door nor isolate sound as well.
Since finish carpentry is by definition simply for looks, there is little to know about it when it comes to owning a house. Just know that the more trim throughout the house and the better the quality, typically the higher the value of the home.
11. Finished Flooring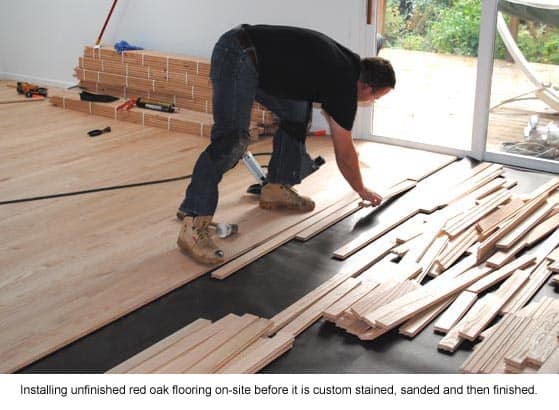 Typically the last part of the house to be done in a new build or renovation is the finished flooring. This is installed on top of the subfloors. Most flooring will be stapled, nailed, or glued to the subfloor, but there are a few options that are considered "floating floors." In recent years, it seems the options for flooring have increased rather dramatically. From hardwood to tile, sheet vinyl, laminate plank, carpet… The list goes on, and with many variations in between.
Perhaps the highest quality flooring would include hardwood and tile for their durability. Tile can be made from several materials such as porcelain or stone, and is thus water proof. This makes it a popular choice for high-end kitchens and baths. Homeowners and rehabbers alike love to see old hardwoods sanded down, re-stained, and refinished! Luxury Vinyl Plank has been growing in popularity for its value in durability, as well as the option to get the floating floor where planks lock together for a water-tight seal. Plus, vinyl is perfectly water proof, so the material itself could soak in water for days with no noticeable repercussions.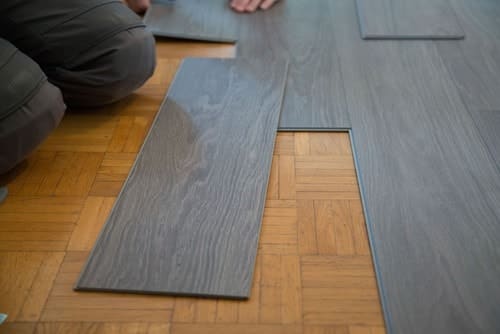 Sheet vinyl or laminate remains as a low-cost option in many low-income areas. It is rolled out in a room, then stretched and glued down. It will have a finish appearance that can be designed to fit any preference. The choice most often is going to be a hardwood look. Vinyl will cost a little more but is water proof and resistant. Laminate is conceptually similar to cardboard and will warp if wet.
Carpet is a popular choice for bedrooms, even in high-end construction. However, it's overall popularity has certainly trended out in the recent 10 – 15 years. Houses used to have carpet in most rooms, but now typically only have it in bedrooms. It's greatest advantage is the warmth it offers to the bare foot and to the look of a room. Carpet has several characteristics that you must select before you can purchase: Density, pile, pad, and fiber. HGTV has a wonderful article here explaining the differences. In short, higher density, longer pile, and thicker pad means better carpet. A couple variations of carpet allow outdoor use.
So what do you really need to know now that you've got the basics? Well, next to paint, flooring is the second most impactful element on your home's value (if you want to learn more about what updates bring the most value to your home, you can download our How to Sell Your House guide by filling in the form to the top right of this page —>). If you decide to make flooring updates to your home, do your part to understand the latest trends to get the most value out of your investment. For the flooring you currently have, make sure you know if any maintenance is needed to prolong it's life. Watch out for changes in your flooring. Cracks mean something underneath is moving or is not stable. There could be a leak, or the foundation could be shifting.
We hope you are more equipped to maximize your experience of owning a home and navigating the maintenance and repairs that come with it by understanding the parts of the house. If you ever need a recommendation for tradesmen to work on any part of your home, don't be shy, ask away! You can let us know about that request by contacting us.
Did we miss anything you want to know about about? Comment your thoughts below.